Rihanna would likely walk around completely naked if it were legal, and though she actually covered up during her recent visit to the United Arab Emirates, the singer was
still asked to leave Abu Dhabi's Grand Mosque on Saturday.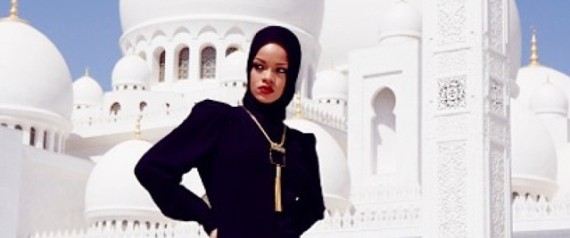 The mosque's overseers told the Associated Press that they asked the 25-year-old pop star to leave the compound after she posed for photos they considered to be at odds with the sanctity of the site.
Rihanna has yet to comment publicly, though she did post a
number of pictures of herself from the photo shoot, that were deemed offensive, to her Instagram account. In the pics, the singer adheres to the mosque's guidelines, she was covered up in a black jumpsuit from head to toe.
Though Rihanna was appropriately covered during her visit to the mosque, her decision to take "modeling shots" at the site has apparently also angered some fans, who say she disrespected a place of worship.
The statement from the Sheik Zayed Grand Mosque, published today in local Abu Dhabi newspapers, did not mention Rihanna by name but instead alluded to a "singer".
It said: "In the event of behaviour that violates the moral codes of access to the mosque, or other visit regulations – such as taking inappropriate pictures, posing in ways that are improper in the context of sacred place, talking loudly, or eating – the violators are directed in a polite manner that reflects the civilisational and tolerant attributes of Islam.
"Here, the Centre refers to a recent incident, involving a singer who came for a private visit to the mosque, at a gate that is not reserved for visitors, without prior coordination with the Centre's management and without identifying herself."
The mosque, which is the largest in the country and can hold more than 40,000 people, is a major tourist site in the United Arab Emirates capital.